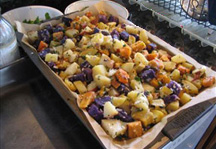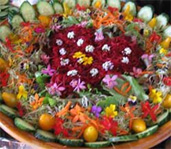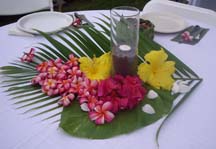 Testimonials
For many years I've been honored to have Mona as chef for my Hawaiian Huna Dolphin Adventure Retreats on the Big Island.

Mona does something magical to food. You get to step into a sensual world where every bite delights the palate with aliveness. Our senses are enhanced by the pleasure of watching salads spring to life with color and inhaling fragrances of fresh organic herbs.

Mona puts pure love into her cooking and presentation. We the participants can only come away with savoring the lingering memory.

Belinda Farrell, Santa Cruz, Ca.
Master Hypnotherapist, Huna Practitioner of ancient
Hawaiian Healing
www.hunahealing.com
---
Choosing Mona to do our catering for our wedding this past summer was one of the best decisions we made.

Our biggest concern was that our reception dinner be created from local, organic, fresh ingredients (as well as looking beautiful) and Mona was able to ensure the highest standard was used. Mona took so much care, and her attention to detail was phenomenal. Not only was the dinner delicious, it was BEAUTIFUL!!!

Mona, with her sweet and warm nature, went above and beyond, taking care of extra details to ensure our experience was beyond all of our expectations. As a result, our wedding wouldn't have been as special, unique and seamless, if it hadn't been for Mona. With deep and sincere gratitude...Thank you.

Sommer Hendry

---
I wanted to let you know how much I miss your alchemistic food! I will starve anyway... I am spoiled... spoiled forever with the best ever meals I had eaten in my life. And I am searching to find a way of reproducing this experience.
I hope sincerely that one time I will meet you again, experience your food, share recipes and maybe... we publish your book
Mahalo nui loa for making my stay in Hawaii an even more treasure I will save for the rest of my life! Mahalo for being you and Mahalo for your loving meals...
Alohaaaaa from Landshut, Bavaria
Yours sincerely,
Carina

---
We hired Mon Ami catering for our wedding in Kona in September 2013. We had a party of 55 and served just heavy pupu's (appetizers). Our custom menu included: grilled tiger prawns with mango chili lime sauce, grilled beef bites with veggies, seared ahi on baby romaine, chicken satay with macadamia nut/peanut sauce, fresh summer rolls with macadamia nut/peanut sauce, mini fresh fish taco station, gourmet local cheese and cracker platter, local fresh fruit platter, and heart shaped lilikoi tarts (amazingly delicious).

Mona and her team did an outstanding job from start to finish. First off, they are the nicest people you will meet in Hawaii! You could taste the love in every bite!!! Their dedication to quality, fresh, locally sourced food is something to be admired. Mona is so creative with her flavors, dishes and presentation. We especially loved how thoughtful she was with customizing the menu to our liking. She went above and beyond with the quantity and quality while still helping us keep to budget. I would HIGHLY RECOMMEND Mon Ami catering to anyone looking for fresh, flavorful catering at their wedding, party or event. It will be the best choice you make! If only she could move back to Miami with us to cater all our parties.
Much love and aloha,
Christine & Sam

---
Dear Mona and Mon Ami Staff,
Thanks again for taking such good care us and our Ohana for our Burdette-Pierie wedding. Our Experience with Mona's Catering for our Spring 2014 celebration of 100 was more than could be expected, and so delicious. When Sara said she'd found a local, organic caterer I was stoked, and so happy she was in charge of catering (ok, she was in charge of everything), and Mona made the whole process very easy.
The actual service was impeccable in timing, and when one of my groomsmen served me a plate of the sweetest potatoes, perfect Kahlua Pig and Cabbage, and a whole array of salads, I actually stopped, paused, and enjoyed myself among the madness of a great day. Simply put, it was everything we hoped and more, and already we have friends calling to reserve you guys. Thanks again Mona and Staff, good times, yeah, hopefully you had half the fun we did.
Mahalo Nui Loa for making a special day even better.
Sincerely,
William and Sara Burdette

---
Planning a wedding is stressful enough, but planning a wedding in a different country is really difficult. I was tasked with organizing a wedding in Hawaii. My daughter and her future husband live in Australia. We live in Canada. They decided Hawaii was a great place for everyone to meet, half way.
From the first contact, all the way through the process, Mona was wonderful. We met her in person 10 months before the wedding and we sat down and discussed our vision. Mona never once said "no". She was excited to do a very different wedding! We wanted a very non-traditional meal as well as appetizers for the afternoon. Mona was thrilled to accommodate. Mona was always available, via email, from the moment we chose her, till the end of the wedding. She was quick to respond with all of our changes and added requests, always with a pleasant and professional demeanor.
We chose to have tiger prawns, marinated beef bites, bruschetta, hummus, cheese and fruit platters for the afternoon. Dinner was a taco bar, with the most delicious salsas and fresh vegetables. We also served roast chicken, with tri colored potatoes and mac nut green beans. We tasked Mona with creating a sundae bar for dessert. She made the most incredible chocolate and caramel sauces along with fresh fruit, nuts, etc. The ice cream bar was a huge hit!
The wedding was at a location with limited kitchen facilities, which added to her challenge. We had 80 guests, a lot for such a venue. We also asked her to staff the bar and make pitchers of margheritas and mojitos. Mona and her staff did an amazing job!
Our guests were thrilled with the fresh and delicious food. Her staff was so accommodating and friendly to everyone. Never once did we see the challenges, that I am sure occurred, behind the scenes. The Kahlua pork tacos were the best we have ever tasted. The chicken was cooked to perfection. The salads and fresh greens were amazing. Her sauces and dips tasted incredible. Our guests commented, "It was the best meal they had in Hawaii, let alone the best meal EVER at a wedding". I would hire Mona and Mon Ami Catering again in a heartbeat. While other vendors were challenging to deal with long distance, Mona was a breath of fresh air and always positive and happy to accommodate.
This review is hard to write because I don't feel I can adequately put into words how thrilled we were.
Mona, you are the best!
Angie Condon


---
My family and I were planning a reunion on the Big Island. We found a place that 19 uncles, aunts, brothers, sisters, and cousins could sleep.
We were excited. Then we thought about cooking meals or trying to go to a restaurant with 19 people (and a few of them were under 8 years old). Then...we thought of cooking every meal - especially dinners after we've been out snorkeling and hiking. And then we thought about doing dishes for everyone. Slowly, it felt like our dream vacation was slipping away. But we found Mona Trenae at www.konacatering.com.
She came over and prepared and cooked every dinner for us and cleaned up. The food was fresh and fantastic. We had a couple of "special menu" people and she made them wonderful food they could eat. She was fun, positive, and always on time. Each day we had our little adventures around the island and then we came back to a really good meal. And, we just got to sit and connect with family rather than rushing around making the food and cleaning up. Having Mona cater our family's reunion for the whole week was a brilliant idea.
John Hruby
Los Angeles, CA

Read all of our
Catering Reviews
at